DayNotez
2.9.2
Journaling application for the Palm OS Platform
Last update
20 Mar. 2006
Licence
Free to try |

$14.95
OS Support
Mobile
Downloads
Total: 193 | Last week: 0
Ranking
#9 in Document Management
Publisher
Natara Software
DayNotez Publisher's Description
Your Palm device has done a wonderful job replacing your old paper planner for scheduling and to-do's. But where did your right hand page go? You know, the one where you recorded the days events, journaled your ideas, and tracked your thoughts.
The standard memo application on your Palm has few organization options, and other offerings add little above this.
Natara comes to the rescue with DayNotez, a Palm OS journal application with all the features you need to organize your record of events and thoughts on a daily basis.
This license is only for the Palm OS application, and does not include the Windows desktop. See DayNotez Desktop for a license that includes the desktop.
Key features:
Four views into your notes (single, day, list, and month calendar).
Organize and filter your entries using color coded categories!!
Multiple entries per day
Time stamped entries with auto-rounding preferences
Contact names
Create a To Do from an entry
Import completed To Dos
Support for private entries
Quick entry templates
Beam an entry to a friend
Supports both a local and the global find command
Import and Export memos and Export to Doc format
Color coded category support
Supports 160x160, 240x320, 320x320, 320x480 resolutions.
PalmPrint and TealPrint support
HandsHigh Slap friendly
Stowaway portable keyboard support
Changes in version 2.9.1
Added support for the PalmOne Treo 650 side button for voice memos.
Tapping on the voice memo icons on the Day and List views will open the entry and display the playback dialog
The import of To Do's captures Agendus contact names and filters out icon and color meta-tags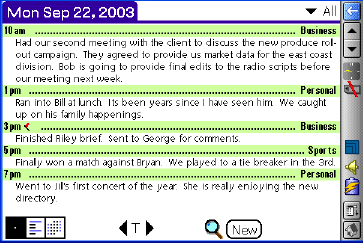 Full list of changes can be found in the readme file.
Look for Similar Items by Category
Feedback